Saturday 28th October 2023 at 12:00
Staff of the Endoscopy Unit have arranged a badminton tournament to raise money towards the cost of French Doors to be installed, giving their staff access directly from the unit into their newly invigorated courtyard. It looks like it'll be a fantastic event, so please do get involved if you can! Details of how to sign up are at the bottom of the poster.
Saturday 18th November 2023 at 20:00
Enjoy a general knowledge quiz at The Comet, and help to raise funds for the Egerton/Benson Wards Courtyard renovations in the process! Quiz begins at 8pm
£5 per person entry, with a maximum of 6 to a team. Sandwiches and sausage rolls kindly provided by the Comet Pub.
Cash prize for winning team kindly sponsored by Hustwayte Building Maintenance.
Pre-book and pay by emailing angie@conquestfriends.co.uk.
Christmas Craft Fair, Brede Village Hall
Saturday 25th November 2023 10:00 – 14:00
The Friends of Conquest Hospital Christmas Craft Fair, to be held at Brede Village hall, has already sold out of stallholder space. Visitors can expect a wide range of home-made crafts including needlework, woodwork, glass art, pottery, wreaths and jewellery.
We'll have refreshments available for purchase and there will be a tombola too.
Entry is free, as is parking.
Fresh Visions Knitting & Crochet Social Group
Weekly on Thursdays from 2pm – 4pm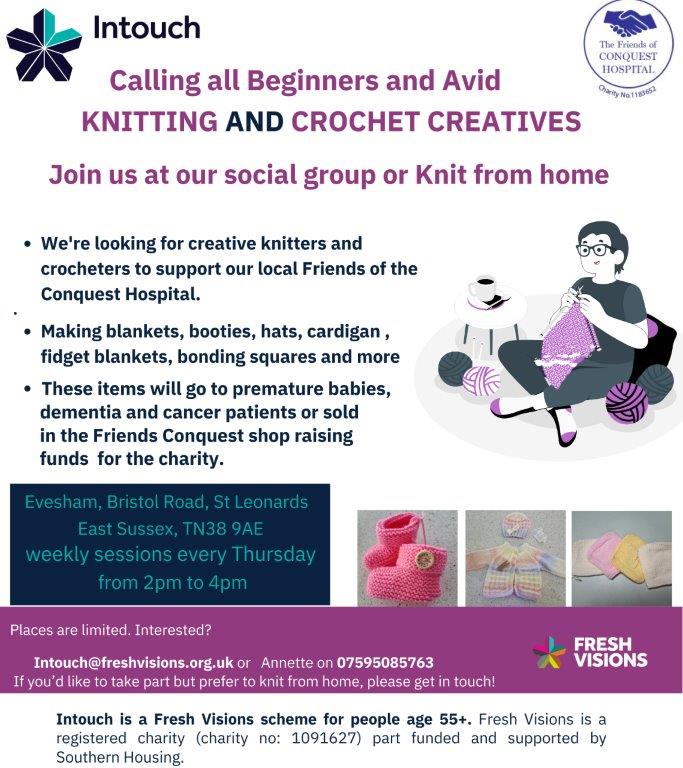 Fresh Visions have organised a knitting and crochet social group as part of their Intouch scheme for people age 55+. This group will make items to support the Friends of Conquest Hospital, with their creations either going directly into the wards as required or into our shop to be sold to raise funds. We are very grateful for their support! If you're interested in getting involved, please do get in touch with Fresh Visions using their contact details on the poster.
Whatlington Singers & Friends kindly held a choral concert at St Peter's Church in Ashburnham on Saturday 10th June. This event raised a huge £624.16 for The Friends of Conquest Hospital. We are incredibly grateful to the choir for their hard work and commitment in supporting us.
Local choir Friends Unlimited kindly held a concert in aid of The Friends of Conquest Hospital. The event was held on Saturday 13th May, and raised a fantastic £300.00. We are very grateful to the choir for their hard work and commitment in supporting us.
Staff at the Hastings branch of Lloyds Bank kindly held an Easter Prize Draw in aid of the Conquest 21 project to renovate the courtyards of the hospital. They raised a fantastic £700.00 from their efforts, for which we are very grateful indeed.
Our Spring Craft Fair, held at Brede Village Hall in early March 2023 raised a fantastic £1182.87 towards the MacDonald Ward courtyard garden project. A huge thank you to Fiona Hosford, who generously gave her time for harp performances throughout the event. We're also incredibly grateful to the ladies of Brede WI, who baked and served refreshments throughout the event.
The Carol Singing in Priory Meadow in early December raised £108.71. With many thanks to Lesley van Egmond from Love Vocals and her students for their performances, and Priory Meadow for kindly allowing us to be there.
The Night at the Races held by the team from Egerton Ward in November to raise funds to renovate their Courtyard Garden raised a fantastic £750.00
The Zumbathon held by the grateful family of a patient of Kipling Ward in November raised an incredible £760.00 for the ward.